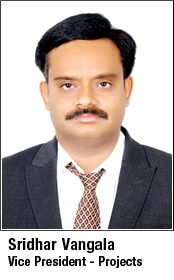 "Success is about going from failure to failure without losing your enthusiasm" – Abraham Lincoln
A leader is one who would give credit to his team for the success of a mission and in times of failure owns up and goes to brass tacks for introspection. However many a time as leaders we tend to take credit for the achievements of our teams and look for scape goats for failed missions. We need to accept that we cannot escape the responsibility of tomorrow by evading it today.
Leaders should be like incubators for gen next and should inculcate in them to explore and experiment the ways and means of turning around tasks. Traditionally at every stage of life we have experienced a lot of hand holding … more than what was required. Excessive hand holding and imposing of ones thoughts on an individual leads to suppression of the natural thought process … allow them to falter … allow them to fall … so that they can learn to rise up and become leaders. A mother penguin pushes its baby into the water and watches it fret to swim …. and the baby learns to do it.
Your strength is your team and if your team mates are going strong, do not feel insecure … feel that you are a captain of a strong team being the strongest amongst all. Let's work towards being remembered as true leaders.
Sridhar Vangala
Vice President - Projects