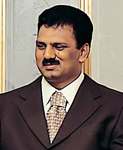 "Optimizing processes in a company is like cultivating good habits at home"
In the business world, there are companies built on sheer innovation and risk capabilities and there are companies that turned iconic by totally quality-centric – GE falls in the second league and the awesomeness of its quality standards inspires me to write this piece, as I put forth my belief that incepting total quality check and audit help us build a stronger company.
Individuals, Teams, Companies and the Industries themselves in their process of journey to the next level or to an aspired phase called progress, always move forward with a set of beliefs, ambitions and goals. Just like we, individuals do retrospection and introspection of our movements in life, to course correct the prospective errands in future, companies seek the importance of audit in the financial governance, operational excellence and organizational transformation. The process of audit achieves the following goals:
1. To identify lapses/areas for improvement and levels of performance quality in academic and related areas
2. To evaluate the performance and quality of schools against Standards vs Practices / Enablers vs Results based on given criteria
3. To provide with clear recommendations and set improvement targets across departments
Continue reading...
With Success comes greater responsibility. As People Combine enters into a new path of success with Great Place to Work study ranking us the No:1 educational company to work for, it is proved that our team work and true belief in the People Combine philosophy will result in nothing but the best.
At the same time, the achievement comes with the responsibility to identify, monitor and improve our departmental processes, as we move along. This is where the process of audit does the needful.
People Combine is a growing network of international schools, K-12 CBSE schools and Play Schools – where the delivery of excellence and parent satisfaction is the utmost priority. It is imperative that we should not turn blind eye to the loop holes and errands in the process that hampers our success.
Audit at People Combine is aimed to be an indispensable exercise that works for greater accountability, efficiency, utmost quality across departments, across the schools and across the group.
Whether it is the Accounting audit that aims for robust financial governance, Educational audit that aims for a premium educational offering to the student and improving the teaching standards, HR audit that strives to improve the work culture and employee satisfaction in the organization, each and every audit strives in tightening the process.
Rather than considering a blockade in carrying our responsibilities and show our resistance to audit process, we all should embrace audit and support the audit process to retrieve excellence.
If we are in the industry of creating inspiring and excellent futures, let's make our processes be excellent and of high quality.
Tummala Sitaram
Director
People Combine.