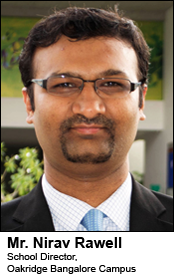 Hello Friends,
As our organization is changing paradigms and looking forward to a new phase of growth, it is imperative that we evaluate our priorities and recalibrate our focus to achieve our objectives. What differentiates the really great organizations from the merely good ones, is the zeal with which the employees buy into the company's vision and strive towards achieving it.
If we have to embark on this journey of becoming a great learning Organization, there are two things, I sincerely believe each one of us ought to internalize.
The first is our willingness to innovate. New ideas are the lifeline of growth. Innovation can happen in a class, in collaborative planning or any area not thought of earlier. We should come up with new ideas, test them quickly and identify whether to scale or discard and move onto the next idea. Steve Jobs once said "Sometimes when you innovate, you make mistakes. It is best to admit them quickly, and get on with improving your other innovations." We should aspire to be a company of Serial Innovators. With Season-2 of Think B!G having just begun, we have a wonderful platform presented to us to bring out our innovative side. I urge each one to participate in this unique competition and make the most of this opportunity.
Continue reading...
The second is persistence in implementation. Success is 1% inspiration and 99% perspiration. For ideas that have already been identified, the only recipe for success is relentless execution. Leave no stone unturned and leave no avenue unexplored. Such single minded focus has been a hallmark of many a success stories and I am convinced it can be one for us as well.
These are interesting times both for the Education Space in general and for our Organization in particular. Let us all come together so that we can script a fantastic future for ourselves and the organization.
Mr. Nirav Rawell
School Director
Oakridge Bangalore Campus.