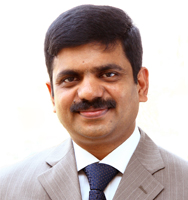 Dear Colleagues,
During founders, for the first time, Shomie, Raj and I were there on stage for four consecutive days and shared our views on education. Students' performances, principals' school reports, guests' speeches and festivity all around were very inspiring.
Through this letter, I wish to convey summarised message of our speeches for the benefit of our teachers and education fraternity. Their essence can be outlined as 'inspiring greatness through quality education and happy relations'.
Anything, only if understood well, is executed well. On this occasion an attempt was made to explain the purpose of education, so that all the stakeholders are on the same page. Thereby, our teachers' activities, inside and outside the classroom, would make sense to parents as well as students. For teachers it helps to sustain focus and, wherever necessary, in course correction.
The primary purpose of education is to prepare children for an unknown future. The knowledge we impart today may or may not be relevant when they actually enter their professional worlds. If Curiosity, Creativity and Confidence are nurtured, then they can live life successfully, happily and add value to mankind in the process.
Another important purpose of education is developing citizenship. Citizenship is living a responsible life with compassion. Compassion is 'loving with passion'. One should passionately love the air, the plants, the animals and fellow human beings. Its cultivation in our children will ultimately make them well-­‐rounded human beings.
Continue reading...
We all agree that every child has a treasure within. Parents and teachers should partner and inspire children to realise that treasure. The very reason for all of us coming together is children who made us parents and teachers. Like the happy relation between a father and a mother, a happy relation between the teacher and the parent has the most significant impact on children.
Together our goal should be to tend greatness in every child. The fact is every child, for that matter, every individual can be great. The formula to achieve this is very simple. Everyone should merely have the knowledge that everyone can be great. To inspire greatness, children need personalised attention, respect and care. A teacher's greatest contribution entails knowing the child, understanding his/her likes and dislikes and assisting him/her in learning the treasure within.
Your memory may fade over time but such inspired child will never forget you in his/her lifetime. One critical factor in building such a relation is to remain non-­‐ judgmental. If a child is inspired, he/she themself will learn the subject matter. If not, your toil will not produce any profound effect. In a nutshell, greatness can be nurtured only through inspiration – by building positive relations.
If a child is responsible, compassionate, successful and happy, what else can we, as parents and teachers, look for? In doing so, we create a happy world...
Oakridge is committed to this belief and continues its endeavours to make a difference to children and society.
Thank you!
Naga Prasad Tummala
Group Chairman