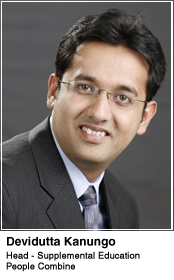 Dear colleagues,

We, at People Combine, are in the business of creating and shaping the current generation of our country into the leaders of tomorrow through education. Our actions and decisions in the classroom today may very well shape the future of our country tomorrow. It is a great responsibility and also a privilege and it puts the burden squarely on our shoulders to look at all our interactions with the students to not only promote their academic development but the development of their entire personality and attitudes.
The first step on this development path is the valuable catalyst – 'Inspiration'. It has the power to make us do the amazing, the extraordinary, and the impossible. Butit is not something that that can be bought off a shelf. The student needs to find it within him or herself through a process of self-exploration.
But we can help the child take the first step in that direction by exposing him or her to a wide range of experiences. And this is what has been a hallmark of our campuses – the focus on extra-curricular and post-school activities that go beyond grades but look at development of the student's entire personality. This year, we are ever more committed towards pushing the boundaries of student experience in each of our campuses. This is possible by strengthening the learning outcomes of all our existing academic, extra-curricular and post school activities like MUNs, activity showcases, field trips, guest lectures, internships etc.
Continue reading...
We are also striving towards streamlining events calendars for each campus and introducing new activities like student-led conferences, Entrepreneurship programs, Film making and theatre workshops, musical recitals, artist-in-residence programs etc. and enhancing the learning outcomes through tie ups with top educational institutes/bodies of the world like Columbia business school, Oxford Summer Courses, Ramoji Academy of Film and Television etc. And efforts are underway towards making the entire process of student and parent involvement in these events and activities seamless and pleasurable.
In the coming few months, our focus has to be on creation of a holistic calendar of activities which allows development of the 6Cs of student development for each grade level:
Character
Critical Thinking
Communication
Creative thinking
Curiosity
Compassion
It is upon each of the faculty and educators to promote the spirit of holistic development in the children and help each child find the inspiration within. There is a fine line between being adequate and being great; and it is the later that we strive for!
Devidutta Kanungo
Head – Supplemental Education
People Combine